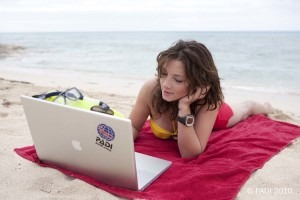 Choose what's best for you!



What is the difference?
In order to get certified you must complete 3 components: academics, pool training, and the four certifying ocean dives. We combine your academic option with our pool schedule so you complete pool and academics in one weekend. With PADI eLearning you complete the academics on your laptop or smart phone. You are excused from class sessions.
1 per diver (academic programs cannot be shared)
How long does the In-Class option take?
4-6 hours of homework combined with approximately 5 hours of in-class work at the school. At the classroom students review their homework, take quizzes and a final exam.
How long does eLearning take?
It is a thorough program and can take 12 or more hours. Each diver can move at their own pace.
Comparison Schedules:
Typical Class Schedule:
Saturday: 8:30am – 5:00pm class/pool
Sunday: 9:00am – 5:00pm class/pool
Typical eLearner's Schedule:
Saturday: 10:00am – 5:00pm store/pool
Sunday: 12:30pm – 5:00pm pool
Please be aware the above schedules are for comparison reasons only.
eLearning is more expensive than In-Class?
The eLearning price is set by PADI. It includes the Access Pass, lifelong online access to the PADI Diver Manual and all needed academic materials.
You can select your academic option during checkout while purchasing your pool schedule weekend training. The Access Pass for eLearning will be sent to you soon after. In-Class divers pick up their study manuals and homework at the store during Orientation.