Monterey Dive Certification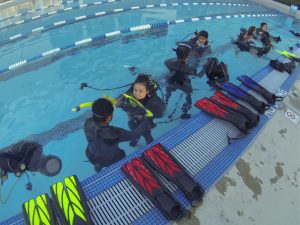 Monterey Scuba Diving Course

Complete SCUBA Certification consists of:
1. eLearning
2. Pool Training
3. Four Ocean Dives at Monterey
This Monterey scuba diving program is for divers interested in completing the entire PADI certification course locally with Scuba Fusion.  eLearning is done at home while the Pool Training work can be scheduled on a single weekend or at a two night weekday program.  The four certifying ocean dives are done at Monterey on a single weekend program.  More about Cold Water Diving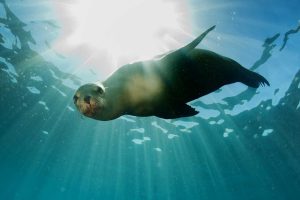 Scuba Gear Needed for Monterey Diving

Monterey scuba diving is serious business. Students need their own quality mask, snorkel fins, boots and gloves.
The type of gear you bring to the program is very specific.  We suggest buying from the store you are taking lessons with.  That way you can exchange anything not working for you. It is very important to test and work out the bugs in a pool before attempting Monterey scuba diving.  This is not a snorkeling class and good gear for students wanting to complete SCUBA certification in cold water is critical.  The store provides the rest of the gear needed such as tanks and suits.
More About Personal Gear Needed
Orientation: Sign up a week or two in advance.  You will need to visit the store to fit the gear needed for pool sessions, sign liability and medical paperwork and pick up personal gear if needed. Orientation must be done in person.  No appointment is necessary come down anytime during business hours.
More About Orientation
No products were found matching your selection.