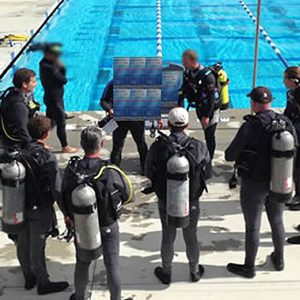 The PADI Divemaster course is a professional level certification and is your first step to teaching others to SCUBA

Scuba Fusion employs Divemasters to assist instructors in all aspects of diver training and diving. 
Divemasters are paid to supervise scuba diving activities and assist with diver student certification.  They fulfill a critical role by leading guided dives in Monterey, teaching the PADI Refresher/Reactivate program and even conducting Discover Scuba programs.
What Do You Learn:
The Divemaster course teaches you to be a leader and take charge of dive activities. Through knowledge development sessions, waterskills exercises and workshops, and hands-on practical assessment, you develop the skills to organize and direct a variety of scuba diving activities. Most Divemasters go on to become instructors.
What's the commitment:
Most if not all diver training is held on the weekends (welcome to the dive industry). Our drop-in program allows students to make their own schedule joining pool and ocean classes when it works best with their schedule.  It gives them an opportunity to work with different instructors and other Divemasters.  Some complete the program in a couple of months while others may stretch it out for 6 or more.  Our programs run year round and Divemaster candidates are welcome in all of them.
Prerequisites:
Candidates will need to have completed an Advanced and Rescue program with PADI or other organizations.  Divers must be at least 18 years old.  Have completed PADI EFR or CPR and First Aid from a Red Cross or other organization within the past 24 months. And have at least 40 logged dives to begin the course and 60 dives to earn certification.
How to Start:
Contact the Training Coordinator at Scuba Fusion by using the contact form on the contact page of this website.